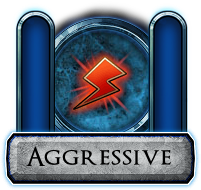 Description
Edit
Creatures with Aggressive are always on the offensive.
Aggressive creatures can attack and use abilities such as Activate and Mobility the turn they enter play. Certain cards like the Flamestoke Shaman can give Aggressive to a creature when they are still on the defensive. Giving Aggressive to a creature with Defender does not allow them to attack.
Card List
Edit
The following cards have or give Aggressive.
Card Name
Rarity
Set
Creature Type
Abilities
Agamemnon

Leg

Set 2.2
Giant
4
8
14

8
12
18


When Agamemnon deals battle damage to a creature on your turn, this battles again.

Level 1


While a creature with Mobility 1 is on the offensive, you can tap or click it to move it to one of your available spaces up to 1 lane(s) away once on each of your turns.

Mobility 1

When Agamemnon deals battle damage to a creature on your turn, this battles again.

Level 2


While a creature with Mobility 1 is on the offensive, you can tap or click it to move it to one of your available spaces up to 1 lane(s) away once on each of your turns.

Mobility 1

A creature with Aggressive is always on the offensive.

Aggressive

When Agamemnon deals battle damage to a creature on your turn, this battles again.

Level 3
Ashurian Mystic

Com

Set 1
Fire Asir
3
6
10

5
8
12




Ator, Thunder Titan

Leg

Set 4.1
Giant
6
9
13

5
8
13


Each other friendly level 1 creature gets

When this enters the field from your hand, it gets the ability listed after this keyword if there are no other creatures in its lane.

Assault

:

A creature with Aggressive is always on the offensive.

Aggressive

.

Level 1


Each other friendly level 2 or lower creature gets

When this enters the field from your hand, it gets the ability listed after this keyword if there are no other creatures in its lane.

Assault

:

A creature with Aggressive is always on the offensive.

Aggressive

.

Level 2


Each other friendly creature gets

When this enters the field from your hand, it gets the ability listed after this keyword if there are no other creatures in its lane.

Assault

:

A creature with Aggressive is always on the offensive.

Aggressive

.

Level 3
Blitzmane, the Destroyer

Leg

Set 7
Dragon
5
8
10

4
7
9


While a creature with Mobility 1 is on the offensive, you can tap or click it to move it to one of your available spaces up to 1 lane(s) away once on each of your turns.

Mobility 1

A creature with Aggressive is always on the offensive.

Aggressive

Raid abilities trigger at the end of the turn if three or more friendly creatures initiated battle.

Raid

: Deal damage equal to Blitzmane's attack to the opposing creature. If there is no opposing creature, deal that damage to the enemy player instead.

Level 1


While a creature with Mobility 1 is on the offensive, you can tap or click it to move it to one of your available spaces up to 1 lane(s) away once on each of your turns.

Mobility 1

A creature with Aggressive is always on the offensive.

Aggressive

Raid abilities trigger at the end of the turn if three or more friendly creatures initiated battle.

Raid

: Deal damage equal to Blitzmane's attack to the opposing creature. If there is no opposing creature, deal that damage to the enemy player instead.

Level 2


While a creature with Mobility 1 is on the offensive, you can tap or click it to move it to one of your available spaces up to 1 lane(s) away once on each of your turns.

Mobility 1

A creature with Aggressive is always on the offensive.

Aggressive

Raid abilities trigger at the end of the turn if three or more friendly creatures initiated battle.

Raid

: Deal damage equal to Blitzmane's attack to the opposing creature. If there is no opposing creature, deal that damage to the enemy player instead.

Level 3
Byzerak Spitemage

Her

Set 2
Human
3
6
9

1
2
3


A creature with Aggressive is always on the offensive.

Aggressive

When this enters play from your hand, it gets the ability listed after this keyword if you have a Nekrium card in your hand.

Allied Nekrium

: When Byzerak Spitemage deals battle damage to a level 1 creature, destroy that creature.

Level 1


A creature with Aggressive is always on the offensive.

Aggressive

When this enters play from your hand, it gets the ability listed after this keyword if you have a Nekrium card in your hand.

Allied Nekrium

: When Byzerak Spitemage deals battle damage to a level 2 or lower creature, destroy that creature.

Level 2


A creature with Aggressive is always on the offensive.

Aggressive

When this enters play from your hand, it gets the ability listed after this keyword if you have a Nekrium card in your hand.

Allied Nekrium

: When Byzerak Spitemage deals battle damage to a creature, destroy that creature.

Level 3
Demonweb Watcher

Com

Set 6
Spider
4
7
14

7
12
18




Dino Knight

Tok

Set 4.2
Dinosaur
8
12
18

8
12
18


While a creature with Breakthrough is on the offensive, battle damge in excess of the opponent's creature's health is also dealt to the opponent.

Breakthrough

A creature with Aggressive is always on the offensive.

Aggressive

When this deals battle damage to a player, heal 3 damage from each other friendly creature.


When this is destroyed.

Vengeance

: Put a level 1

Bron, Wild Tamer

into this space.

Level 1


While a creature with Breakthrough is on the offensive, battle damge in excess of the opponent's creature's health is also dealt to the opponent.

Breakthrough

A creature with Aggressive is always on the offensive.

Aggressive

When this deals battle damage to a player, heal 5 damage from each other friendly creature.


When this is destroyed.

Vengeance

: Put a level 2

Bron, Wild Tamer

into this space.

Level 2


While a creature with Breakthrough is on the offensive, battle damge in excess of the opponent's creature's health is also dealt to the opponent.

Breakthrough

A creature with Aggressive is always on the offensive.

Aggressive

When this deals battle damage to a player, heal 7 damage from each other friendly creature.


When this is destroyed.

Vengeance

: Put a level 2

Bron, Wild Tamer

into this space.

Level 3
Dozer, the Awakened

Tok

Set 3
Bear
9
12
15

9
12
15


While a creature with Breakthrough is on the offensive, battle damge in excess of the opponent's creature's health is also dealt to the opponent.

Breakthrough

A creature with Aggressive is always on the offensive.

Aggressive

Dozer, the Awakened enters play with health equal to the

Dozer, the Dormant

it replaced.

Level 1


While a creature with Breakthrough is on the offensive, battle damge in excess of the opponent's creature's health is also dealt to the opponent.

Breakthrough

A creature with Aggressive is always on the offensive.

Aggressive

Dozer, the Awakened enters play with health equal to the

Dozer, the Dormant

it replaced.

Level 2


While a creature with Breakthrough is on the offensive, battle damge in excess of the opponent's creature's health is also dealt to the opponent.

Breakthrough

A creature with Aggressive is always on the offensive.

Aggressive

Dozer, the Awakened enters play with health equal to the

Dozer, the Dormant

it replaced.

Level 3
Dragonwake

Leg

Set 5.2









Search your deck for a level 2 or lower Dragon and

A spawned creature enters play in a friendly available space at random.

Spawn

a copy of it.

It gets

A creature with Aggressive is always on the offensive.

Aggressive

and "At the end of your turn, destroy this."

Level 1


Search your deck for a Dragon and

A spawned creature enters play in a friendly available space at random.

Spawn

a copy of it.

It gets

A creature with Aggressive is always on the offensive.

Aggressive

and "At the end of your turn, destroy this."

Level 2


Search your deck for a Dragon and

A spawned creature enters play in a friendly available space at random.

Spawn

a copy of it.

It gets

A creature with Aggressive is always on the offensive.

Aggressive

.

Level 3
Flamestoke Shaman

Rar

Set 1
Human
6
12
18

3
7
12


While a creature with an Activate ability is on the offensive, you can tap or click it to use that ability once on each of your turns.

Activate

: Give an adjacent level 1 creature

A creature with Aggressive is always on the offensive.

Aggressive

.

Level 1


While a creature with an Activate ability is on the offensive, you can tap or click it to use that ability once on each of your turns.

Activate

: Give an adjacent level 2 or lower creature

A creature with Aggressive is always on the offensive.

Aggressive

.

Level 2


While a creature with an Activate ability is on the offensive, you can tap or click it to use that ability once on each of your turns.

Activate

: Give an adjacent creature

A creature with Aggressive is always on the offensive.

Aggressive

.

Level 3
Forge Guardian Omega

Tok

Set 1
Robot Guardian
25
50
80

25
50
80


A creature with Armor 10 prevents the first 10 damage dealt to it each turn.

Armor 10

While a creature with Breakthrough is on the offensive, battle damge in excess of the opponent's creature's health is also dealt to the opponent.

Breakthrough

Whenever this card would be shuffled into your deck, shuffle it into the top twenty cards instead.

Consistent

While a creature with Mobility 1 is on the offensive, you can tap or click it to move it to one of your available spaces up to 1 lane(s) away once on each of your turns.

Mobility 1

A creature with Aggressive is always on the offensive.

Aggressive

Level 1


A creature with Armor 20 prevents the first 20 damage dealt to it each turn.

Armor 20

While a creature with Breakthrough is on the offensive, battle damge in excess of the opponent's creature's health is also dealt to the opponent.

Breakthrough

Whenever this card would be shuffled into your deck, shuffle it into the top twenty cards instead.

Consistent

While a creature with Mobility 2 is on the offensive, you can tap or click it to move it to one of your available spaces up to 2 lane(s) away once on each of your turns.

Mobility 2

A creature with Aggressive is always on the offensive.

Aggressive

Level 2


A creature with Armor 40 prevents the first 40 damage dealt to it each turn.

Armor 40

While a creature with Breakthrough is on the offensive, battle damge in excess of the opponent's creature's health is also dealt to the opponent.

Breakthrough

Whenever this card would be shuffled into your deck, shuffle it into the top twenty cards instead.

Consistent

While a creature with Mobility 4 is on the offensive, you can tap or click it to move it to one of your available spaces up to 4 lane(s) away once on each of your turns.

Mobility 4

A creature with Aggressive is always on the offensive.

Aggressive

Level 3
Gemhide Basher

Rar

Set 1
Dinosaur
5
10
16

3
7
10




Hinterland Watchman

Leg

Set 1
Mech
4
7
15

7
10
20


While Hinterland Watchman has 5 or more attack, it gets

While a creature with Mobility 3 is on the offensive, you can tap or click it to move it to one of your available spaces up to 3 lane(s) away once on each of your turns.

Mobility 3

.

Level 1


While Hinterland Watchman has 10 or more attack, it gets

A creature with Armor 5 prevents the first 5 damage dealt to it each turn.

Armor 5

and

While a creature with Mobility 3 is on the offensive, you can tap or click it to move it to one of your available spaces up to 3 lane(s) away once on each of your turns.

Mobility 3

.

Level 2


While Hinterland Watchman has 20 or more attack, it gets

A creature with Armor 5 prevents the first 5 damage dealt to it each turn.

Armor 5

,

While a creature with Breakthrough is on the offensive, battle damge in excess of the opponent's creature's health is also dealt to the opponent.

Breakthrough

,

A creature with Aggressive is always on the offensive.

Aggressive

,

While a creature with Mobility 3 is on the offensive, you can tap or click it to move it to one of your available spaces up to 3 lane(s) away once on each of your turns.

Mobility 3

and

At the start of each turn, a creature with Regenerate 5 heals 5 damage from itself.

Regenerate 5

.

Level 3
Iztek, Avatar of Flame

Tok

Set 3
Fire Elemental
7
12
20

6
9
15


A creature with Aggressive is always on the offensive.

Aggressive

When Iztek deals battle damage to a player, deal that much damage to that player again.


When you play

Iztek's Frost

, replace this with a level 1

Iztek, Avatar of Frost

.

Level 1


A creature with Aggressive is always on the offensive.

Aggressive

When Iztek deals battle damage to a player, deal that much damage to that player again.


When you play

Iztek's Frost

, replace this with a level 2

Iztek, Avatar of Frost

.

Level 2


A creature with Aggressive is always on the offensive.

Aggressive

When Iztek deals battle damage to a player, deal that much damage to that player again.


When you play

Iztek's Frost

, replace this with a level 3

Iztek, Avatar of Frost

.

Level 3
Iztek, Avatar of Frost

Tok

Set 3
Ice Elemental
6
9
15

7
12
20


A creature with Aggressive is always on the offensive.

Aggressive

When you play Iztek's Flame, replace this with a level 1 Iztek, Avatar of Flame.


While a creature with an Activate ability is on the offensive, you can tap or click it to use that ability once on each of your turns.

Activate

: Deal 2 damage to a creature.

Level 1


A creature with Aggressive is always on the offensive.

Aggressive

When you play Iztek's Flame, replace this with a level 2 Iztek, Avatar of Flame.


While a creature with an Activate ability is on the offensive, you can tap or click it to use that ability once on each of your turns.

Activate

: Deal 5 damage to a creature.

Level 2


A creature with Aggressive is always on the offensive.

Aggressive

When you play Iztek's Flame, replace this with a level 3 Iztek, Avatar of Flame.


While a creature with an Activate ability is on the offensive, you can tap or click it to use that ability once on each of your turns.

Activate

: Deal 10 damage to a creature.

Level 3
Korok, Khan of Kadras

Leg

Set 2
Forgeborn
4
7
12
18
7
12
18
26




Lightning Brand

Com

Set 1











Lightning Elemental

Tok

Set 2
Lightning Elemental
4
7
11

2
5
8




Lightning Tamer

Com

Set 7
Lightning Asir
6
8
10

1
1
1




Lightning Titan

Tok

Set 7.3
6



4



Lightning Wyrm

Com

Set 1
Lightning Elemental
4
7
11

2
5
8




Pyre Giant

Her

Set 1
Fire Giant
4
6
8

2
3
4




Rumblestone Elemental

Her

Set 4.1
Earth Elemental
2
4
6

1
2
3


A creature with Aggressive is always on the offensive.

Aggressive

When Rumblestone Elemental deals battle damage to a player, deal that much damage to itself as well.

When this enters the field from your hand, it gets the ability listed after this keyword if there are no other creatures in its lane.

Assault

:

A spawned creature enters play in a friendly available space at random.

Spawn

a copy of Rumblestone Elemental. Then repeat this for each copy.

Level 1


A creature with Aggressive is always on the offensive.

Aggressive

When Rumblestone Elemental deals battle damage to a player, deal that much damage to itself as well.

When this enters the field from your hand, it gets the ability listed after this keyword if there are no other creatures in its lane.

Assault

:

A spawned creature enters play in a friendly available space at random.

Spawn

a copy of Rumblestone Elemental. Then repeat this for each copy.

Level 2


A creature with Aggressive is always on the offensive.

Aggressive

When Rumblestone Elemental deals battle damage to a player, deal that much damage to itself as well.

When this enters the field from your hand, it gets the ability listed after this keyword if there are no other creatures in its lane.

Assault

:

A spawned creature enters play in a friendly available space at random.

Spawn

a copy of Rumblestone Elemental. Then repeat this for each copy.

Level 3
Runestorm Primordial

Rar

Set 3
Lightning Elemental
3
7
14

2
6
13




A creature with Aggressive is always on the offensive.

Aggressive

Whenever this card would be shuffled into your deck, shuffle it into the top twenty cards instead.

Consistent

Level 2


A creature with Aggressive is always on the offensive.

Aggressive

Whenever this card would be shuffled into your deck, shuffle it into the top twenty cards instead.

Consistent

Level 3
Saberfang

Her

Set 4
Cat
2
4
6

1
1
1




Shadowflame Elemental

Her

Set 6
Darkforged Elemental
4
8
14

4
8
14




Sparkbrand Asir

Com

Set 2
Lightning Asir
2
7
9

6
11
13




Sparksoul

Com

Set 4
Lightning Elemental
6
9
15

5
8
14


When this enters the field, it gets the ability listed after this keyword if it replaced a creature.

Upgrade

: Sparksoul gets

A creature with Aggressive is always on the offensive.

Aggressive

.

Level 1


When this enters the field, it gets the ability listed after this keyword if it replaced a creature.

Upgrade

: Sparksoul gets

A creature with Aggressive is always on the offensive.

Aggressive

.

Level 2


When this enters the field, it gets the ability listed after this keyword if it replaced a creature.

Upgrade

: Sparksoul gets

A creature with Aggressive is always on the offensive.

Aggressive

.

Level 3
Sparktail Manticore

Rar

Set 4
Manticore
3
6
9

7
11
16


While a creature with Mobility 1 is on the offensive, you can tap or click it to move it to one of your available spaces up to 1 lane(s) away once on each of your turns.

Mobility 1

A creature with Aggressive is always on the offensive.

Aggressive

Level 1


While a creature with Mobility 1 is on the offensive, you can tap or click it to move it to one of your available spaces up to 1 lane(s) away once on each of your turns.

Mobility 1

A creature with Aggressive is always on the offensive.

Aggressive

Level 2


While a creature with Mobility 1 is on the offensive, you can tap or click it to move it to one of your available spaces up to 1 lane(s) away once on each of your turns.

Mobility 1

A creature with Aggressive is always on the offensive.

Aggressive

Level 3
Violent Outburst

Rar

Set 4












A free card does not count towards your two card plays per turn.

Free

Give creature

A creature with Aggressive is always on the offensive.

Aggressive

and, "When this creature deals battle damage to a player, it also deals that much damage to itself."

Level 3
Warhound Courser

Tok

Set 7
Fire Elemental
1
2
3

1
2
3


A free card does not count towards your two card plays per turn.

Free

.

A creature with Aggressive is always on the offensive.

Aggressive

Level 1


A free card does not count towards your two card plays per turn.

Free

.

A creature with Aggressive is always on the offensive.

Aggressive

Level 2


A free card does not count towards your two card plays per turn.

Free

.

A creature with Aggressive is always on the offensive.

Aggressive

Level 3
Warhound Raider

Rar

Set 7
Fire Asir
5
9
15

6
10
16


If there is a friendly

Warhound Courser

in play, Warhound Raider has

A creature with Aggressive is always on the offensive.

Aggressive

.

You start the game with the following cards added to your deck.

Solbind

:

Warhound Courser

Level 1


If there is a friendly

Warhound Courser

in play, Warhound Raider has

A creature with Aggressive is always on the offensive.

Aggressive

.

Level 2


If there is a friendly

Warhound Courser

in play, Warhound Raider has

A creature with Aggressive is always on the offensive.

Aggressive

.

Level 3